Barbados Country Report
---
Overview
Executive Summary
The Barbados Labour Party (BLP) of Prime Minister Mia Mottley won all 30 seats in the House of Assembly at the May 2018 general election; its number of seats subsequently decreased to 29 when the former BLP MP Bishop Joseph Atherley left the party and became an independent MP and opposition leader within parliament in June 2018. After losing all its seats in the general election, the opposition Democratic Labour Party (DLP) remains weak.In April 2020, Mottley unveiled a USD1-billion, two-year economic stimulus package to help the economy recover from the coronavirus disease 2019 (COVID-19)-virus pandemic, based primarily on an acceleration of capital works programmes across energy, housing, and transport infrastructure, but also including income and payroll support, as well as funding to aid the tourism sector.The need to increase spending to combat the economic impact of the COVID-19-virus will increase the country's debt levels; however, the International Monetary Fund (IMF) has been broadly supportive of government measures to date and has provided additional funding to help Barbados. Barbados's reliance on tourism will make it significantly vulnerable in 2020 owing to a near halt in travel activities during the period of rapid increases in global COVID-19 cases. The economy has also been weakened by three consecutive years of recessions. In 2020, we forecast a real average annual GDP decline of 15.2%. The murder rate in Barbados continues to increase rapidly, with 49 homicides recorded in 2019, an increase from 28 in 2018. By mid-July 2020, there had been 23 murders committed on the island despite the national lockdown because of the COVID-19 virus. Most of the homicide victims were local citizens involved in criminal activities such as drug trafficking and distribution. The primary risk to visitors is theft, with death and injury risks if victims resist. The island is a transhipment point for drug trafficking in the Caribbean.
Operational Outlook
Infrastructure in Barbados is well developed by Caribbean standards, and there are good air and sea links to major markets. Corruption levels are among the lowest in the region. Although labour is expensive by regional standards, the workforce is productive and well educated. In June 2020, the IMF called for an acceleration of structural reforms as the country's business climate had "much room from improvement". The government is also likely to continue giving priority to improving the island's resilience to hurricane-related events, updating road, water, and sewerage infrastructure, as the economy recovers from COVID-19.
There are no domestic terrorist groups with the intention or capability to conduct terrorist attacks in Barbados. The country's relatively close relations with the United Kingdom and the United States could motivate terrorist groups to target the tourism sector, especially should Caribbean Islamic State fighters return to the region, although such risks are low. Barbadian authorities are likely to continue carrying out training activities to mitigate potential threats from international groups, particularly against countries considered "soft targets" or those closely allied to the United States.
Violent crime rates have risen rapidly in recent years. In 2019, there were 49 homicides recorded, up from 28 in 2018. By mid-July 2020, there had been an additional 23 murders committed on the island. Overall, the majority of crime is non-violent, such as petty theft, burglary, and marijuana use. Crime has not significantly affected the tourism industry or business operations. Minor crime against property represents the bulk of offences recorded. Despite comprehensive legislation and financial regulations, the country remains susceptible to money laundering owing to its substantial offshore financial sector.
War Risks
Interstate war risks are low. Barbados retains positive diplomatic ties with its neighbours and the country is a prominent member of the Caribbean Community (CARICOM). Barbados's bilateral relations with Trinidad and Tobago improved following the 2006 resolution of a long-standing dispute over the delimitation of the two countries' Exclusive Economic Zones, and the two countries have strong trade links.
Vaccines Required to Enter the Country
Yellow fever: There is no risk of contracting yellow fever in Barbados. However, the government requires proof of vaccination for travelers arriving from countries with a risk of yellow fever transmission. A single dose of YF vaccine is sufficient to confer sustained life-long immunity against the disease.
Vaccines Recommended for All Travelers
Routine vaccinations: Consult your doctor to ensure all routine vaccinations - such as for diphtheria, tetanus, polio, tuberculosis, influenza, measles, mumps, pertussis, rubella, varicella, etc. - are up to date (include booster shots if necessary).
Vaccines Recommended for Most Travelers
Hepatitis A: The vaccine is given in two doses, six months apart, and is nearly 100 percent effective. The WHO recommends the vaccine be integrated into national routine immunization schedules for children aged one year or older.
Typhoid fever: The typhoid fever vaccine can be administered via injection (administered in one dose) or orally (four doses). The vaccine is only 50-80 percent effective, so travelers to areas with a risk of exposure to typhoid fever, a bacterial disease, should also take hygienic precautions (e.g. drink only bottled water, avoid undercooked foods, wash hands regularly, etc.). Children can be given the shot beginning at two years of age (six for the oral vaccine).
Vaccines Recommended for Some Travelers
Hepatitis B: The WHO recommends that all infants receive their first dose of vaccine as soon as possible after birth, preferably within 24 hours. The birth dose should be followed by two or three doses to complete the primary series. Routine booster doses are not routinely recommended for any age group.
Rabies: The rabies vaccination is typically only recommended for travel to remote areas and if the traveler will be at high risk of exposure (e.g. undertaking activities that will bring them into contact with dogs, cats, bats, or other mammals). The vaccination is administered in three doses over a three-to-four week period. Post exposure prophylaxis is also available and should be administered as soon as possible following contact with an animal suspected of being infected (e.g. bites and scratches).
The country can be hit by hurricanes and tropical storms during the annual hurricane season that officially runs from June 1 to November 30. In August and September 2017, hurricanes Harvey and Maria passed near the island, bringing violent winds and torrential rain that resulted in flooding and power outages, though no major damage. Information regarding current or forecast storms is available on the US National Hurricane Center's website.
Barbados is also located in a seismic zone and earthquakes sometimes occur.
Visitors should be careful while driving; secondary roads are sometimes quite narrow and buses and taxis often travel at seemingly unsafe speeds. Public buses (blue and yellow) are generally safe, while privately-owned bus companies are often less so. If taking taxis, use only licensed companies.
Note that cars drive on the left side of the road in this British Commonwealth.
Practical Information
Climate
The climate in Barbados is tropical. The dry season lasts from November until May and the rainy season from June until October. Average temperatures range from 25°C to 35°C and days are usually sunny.
Useful Numbers
| | |
| --- | --- |
| Country Code: | +1 246 |
| Police: | 211 |
Electricity
Voltage: 115V ~ 50 Hz
Outlets: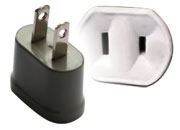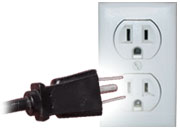 Risk Level
Critical
High
Medium
Low
Minimal