Grenada Country Report
---
Overview
Executive Summary
The ruling New National Party (NNP) under Prime Minister Keith Mitchell controls 14 out of 15 seats in the House of Representatives. This is since NNP leader Tobias Clement of the St George North-East constituency announced his resignation in November 2019 and became leader of the opposition in April 2020, the first time since 2013 that Grenada has had an official opposition within parliament. Mitchell remains popular, with the opposition National Democratic Congress (NDC) holding a low chance of winning the 2023 election. Grenada's economy remains reliant on tourism, which represents the main source of foreign-exchange earnings, which has been highly affected by COVID-19-virus-related travel restrictions. IHS Markit forecasts a 7.9% economic contraction for 2020, as a weaker global economy, especially frailty in the US, Canada, and Europe, will depress the tourism industry. The government is also working to develop the country's hydrocarbon potential. The risk of large-scale violent protests is low, with no major civil unrest recently. Politically and economically motivated demonstrations, including those by public-sector workers, mainly teachers, occasionally occur but are unlikely to result in violence, posing low property damage risks. However, the likelihood of peaceful economically motivated demonstrations in the next 12 months will increase as unemployment is likely to rise as a result of the expected negative economic impact of COVID-19. In June 2020, there was a protest outside the US Embassy in St George's relating to the Black Lives Matter movement. Compared with the regional average, Grenada has a low number of homicides, although in 2019 there was an increase to 16 homicides, from 13 in 2018, out of a population of over 110,000. Across the first seven months of 2020, there had been 12 murders committed on Grenada, up from nine murders for the same period in 2019. The main risks for visitors are theft and sexual assault.
Operational Outlook
Grenada welcomes foreign investment. The country has well-developed infrastructure by regional standards, aided by support from international organisations and the private sector. Regionally, Grenada has lower levels of crime than most of its neighbours. The labour movement does not represent an operational constraint, although occasional strikes can occur. Limited state capacity means that bureaucracy is often slow, but corruption is not a major concern. The country remains vulnerable to natural disasters, such as hurricanes.
There are no known terrorist groups with the intention or capability to target private, military, or government-owned assets. in the country. The main security threat is crime; however, homicides are relatively low with 16 people murdered in 2019, out of a population of over 110,000.
Compared with the regional average, Grenada has a low number of homicides, although in 2019 there was an increase to 16 homicides, from 13 in 2018, out of a population of over 110,000. Incidents of petty crime increase in the run-up to annual festivities such as the August Carnival, while rates of burglaries are relatively high throughout the year. Across the first seven months of 2020, there had been 12 murders committed on Grenada, up from nine murders for the same period in 2019.
War Risks
Interstate war risks remain low. In common with other small states in the Eastern Caribbean, Grenada's foreign relations initiatives are shaped by its need to diversify economic development, and an ongoing search for donor aid and market opportunities. The country's relationships with its regional neighbours and the United States are friendly.
Vaccines required to enter the country
Yellow fever: There is no risk of contracting yellow fever in Grenada. However, the government requires proof of vaccination for travelers arriving from countries with a risk of yellow fever transmission. A single dose of YF vaccine is sufficient to confer sustained life-long immunity against the disease.
Vaccines recommended for all travelers
Routine vaccinations: Consult your doctor to ensure all routine vaccinations - such as for diphtheria, tetanus, polio, tuberculosis, influenza, measles, mumps, pertussis, rubella, varicella, etc. - are up to date (include booster shots if necessary).
Vaccines recommended for most travelers
Hepatitis A: The vaccine is given in two doses, six months apart, and is nearly 100 percent effective. The WHO recommends the vaccine be integrated into national routine immunization schedules for children aged one year or older.
Typhoid fever: The typhoid fever vaccine can be administered via injection (administered in one dose) or orally (four doses). The vaccine is only 50-80 percent effective, so travelers to areas with a risk of exposure to typhoid fever, a bacterial disease, should also take hygienic precautions (e.g. drink only bottled water, avoid undercooked foods, wash hands regularly, etc.). Children can be given the shot beginning at two years of age (six for the oral vaccine).
Vaccines recommended for some travelers
Hepatitis B: The WHO recommends that all infants receive their first dose of vaccine as soon as possible after birth, preferably within 24 hours. The birth dose should be followed by two or three doses to complete the primary series. Routine booster doses are not routinely recommended for any age group.
Rabies: The rabies vaccination is typically only recommended for travel to remote areas and if the traveler will be at high risk of exposure (e.g. undertaking activities that will bring them into contact with dogs, cats, bats, or other mammals). The vaccination is administered in three doses over a three-to-four week period. Post exposure prophylaxis is also available and should be administered as soon as possible following contact with an animal suspected of being infected (e.g. bites and scratches).
Travelers should be aware that Granada is located in a region often struck by hurricanes and tropical storms from June to November. Detailed information regarding all storm activity is available at the National Hurricane Center's website. 
Grenada is located near the Kick 'em Jenny submarine volcano. A major volcanic eruption could potentially trigger a tsunami that could affect a number of Caribbean islands, including Grenada. Kick 'em Jenny erupts on average every 11 years; the last eruption dates back to 2001. 
Earthquakes can strike the Caribbean region.
Road infrastructure (road conditions, lighting, signage) is generally in poor condition, particularly on secondary and minor roads. Drivers should be particularly cautious at night outside tourist areas. 
To drive in Grenada (on the left-hand side of the road in this former British colony), foreigners must obtain a temporary local license. Visitors should contact their rental agency for more information.
For safety and security reasons, only licensed taxis should be used. As taxis do not have meters, it is advisable to agree on a fare prior to departure.
Mustique Airways - an airline that services Grenada and is based out of Saint Vincent and the Grenadines - has been placed on the EU "blacklist" of airlines banned from operating in EU airspace due to subpar safety standards. Travel on Mustique Airways flights is, therefore, not advised.
Practical Information
Climate
Grenada's climate is tropical, with temperatures ranging between 24°C and 30°C all year long (temperatures are lower at higher elevations). The dry season extends from February to May and the rainy season from June to December. Annual rainfall is the highest in mountainous and coastal regions.
Useful Numbers
| | |
| --- | --- |
| Country Code: | +1 473 |
| Police: | 911 |
Electricity
Voltage: 230 V ~ 50 Hz
Outlets: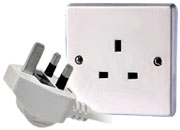 Risk Level
Critical
High
Medium
Low
Minimal