Mexico Country Report
---
Overview
Executive Summary
After shrinking by 0.1% in 2019, IHS Markit now forecasts Mexican GDP to decline by 9.9% in 2020, with scope for further downside adjustments. Economic recession in the United States will significantly curtail exports and foreign-exchange earnings. Additionally, the implementation of coronavirus disease 2019 (COVID-19) virus-driven social-distancing measures will significantly weaken domestic demand and further reduce business investment spending.President Andrés Manuel López Obrador (AMLO) has not announced any major spending package to mitigate this slowdown. The president is emphasising the need for fiscal austerity and has discarded tax breaks aimed at supporting businesses. It is likely that the government will order tax auditing of large corporate contributors in an effort to collect extra revenue. Delay in offering fiscal support at national level is highly likely to lead to increasing pressure on the business sector as the COVID-19-virus spreads. The risk of business failures and declaration of force-majeure events are likely to increase, and firms will step up redundancies, even at the risk of facing fines. As the crisis unfolds, AMLO has continued to support anti-business policies. AMLO remains Mexico's most popular politician, but his approval rating is falling from 77% in early 2019 to about 56% by July 2020. The negative economic effects of the COVID-19 virus are likely to weaken his government, diminishing the ability of the ruling party to maintain its control of the Lower House in the mid-2021 mid-term election.As the economy deteriorates, criminal groups in the country are also likely to strengthen, worsening the security environment because of intensifying turf wars for the control of drug-trafficking routes, as well as extortion, theft, and kidnapping areas. Guanajuato, Chihuahua, and Baja California will be severely affected by intensifying turf wars.
Operational Outlook
Strike action in Gambia remains rare, with little sign that unions have stepped up activity since the ending of the repression of the Yahya Jammeh dictatorship. The private sector is relatively small and most labour unrest is likely to continue being characterised by short-lived stoppages by public-sector professionals such as doctors and teachers. Corruption levels have fallen significantly from those during the kleptocratic Jammeh regime, although at lower levels there is little evidence of an ingrained culture of graft. However, in July 2020, the major CMA CGM shipping company said it was suspending timber exports from Gambia because of concerns over the illegal trade in rosewood, likely facilitated by suborned officials.
The last politically motivated terrorist attack in Mexico was carried out by the Popular Revolutionary Army (EPR), which claimed responsibility for three waves of IEDs targeting pipelines in 2007. The group has not carried out any attacks since. There are no other terrorist groups in Mexico with the known intention to target commercial or government-owned property due to political, religious, or ideological reasons. Mexican drug cartels, however, engage in armed confrontations with members of the security forces and have damaged property in extortion-related attacks. The Mexican government does not consider them terrorists, but US President Donald Trump threatened to designate them as such in 2019.
The primary crime-related risk is street robbery, with victims risking injury or death if they offer resistance. Criminals target individuals using the public transport system, those in vehicles not moving due to traffic, or leaving bank branches, including in areas frequented by business people. The use of illegal taxis increases express kidnapping risks. Several of Mexico's criminal organisations have alliances with smaller gangs nationwide, which also engage in activities such as micro-trafficking of drugs, extortion, vehicle theft, pedestrian theft, home robberies, and kidnapping.
War Risks
Mexico is unlikely to initiate inter-state war. However, the killing of a US-Mexican family in November 2019 led US President Donald Trump to say that it was time for the United States to wage war against drug cartels in Mexico, despite the country opposing foreign intrusions in its territory. The US designation of the cartels as terrorists has been put on hold and appears unlikely. In the unlikely event that it happens, it would increase the probability of US unilateral actions to capture drug lords in Mexico. Even if such unilateral action happens, military conflict between both countries is highly unlikely.
Vaccines required to enter the country
No vaccinations are required to enter the country.
Vaccines recommended for all travelers
Routine vaccinations: Consult your doctor to ensure all routine vaccinations - such as for diphtheria, tetanus, polio, tuberculosis, influenza, measles, mumps, pertussis, rubella, varicella, etc. - are up to date (include booster shots if necessary).
Vaccines recommended for most travelers
Hepatitis A: The vaccine is given in two doses, six months apart, and is nearly 100 percent effective. The WHO recommends the vaccine be integrated into national routine immunization schedules for children aged one year or older.
Typhoid fever: The typhoid fever vaccine can be administered via injection (administered in one dose) or orally (four doses). The vaccine is only 50-80 percent effective, so travelers to areas with a risk of exposure to typhoid fever, a bacterial disease, should also take hygienic precautions (e.g. drink only bottled water, avoid undercooked foods, wash hands regularly, etc.). Children can be given the shot beginning at two years of age (six for the oral vaccine).
Vaccines recommended for some travelers
Hepatitis B: The WHO recommends that all infants receive their first dose of vaccine as soon as possible after birth, preferably within 24 hours. The birth dose should be followed by two or three doses to complete the primary series. Routine booster doses are not routinely recommended for any age group.
Rabies: The rabies vaccination is typically only recommended for travel to remote areas and if the traveler will be at high risk of exposure (e.g. undertaking activities that will bring them into contact with dogs, cats, bats, or other mammals). The vaccination is administered in three doses over a three-to-four week period. Post exposure prophylaxis is also available and should be administered as soon as possible following contact with an animal suspected of being infected (e.g. bites and scratches).
Malaria: There is currently no malaria vaccine. However, various antimalarial prophylactics are available by prescription and can reduce risk of infection by up to 90 percent. Different medications are prescribed depending on the risk level and the strains of the virus present in the destination. Antimalarial tablets need to be taken throughout the trip to be effective and may need to be taken for as long as four weeks following the trip.
Mexico's hurricane season on the Pacific (west) coast extends from May 15 to November 30 and on the Atlantic/Caribbean (east) coast from June 1 to November 30; the largest concentration of storms typically occurs between August and October. Hurricanes have the potential to cause major damage and loss of life, as well as travel disruptions, particularly in Mexico's coastal states. In August 2016, Tropical Storm Earl and its remnants resulted in flooding and landslides in central and southeastern Mexico, leaving more than 50 people dead. Several storms struck the country in 2017, although none resulted in catastrophic material damages or a significant number of casualties. Regularly updated information regarding all tropical storms is available at the website of the US-based National Hurricane Center. If a storm is forecast, follow all instructions issued by local authorities, in particular evacuation orders. Distance yourself from natural bodies of water and mountainous areas as much as possible as a precaution against floods and landslides.
More generally, flooding and landslides are common following heavy rains, including within Mexico City. Be aware that the risk of contracting water- and mosquito-borne diseases tends to rise after periods of heavy rains (see HEALTH section).
Additionally, the south and west of Mexico is located in an active seismic zone. Two powerful earthquakes struck the country in September 2017. An 8.2-magnitude earthquake struck off the southwestern coast in September 2017, causing deaths and major destruction in the states of Oaxaca and Chiapas. This was followed less than two weeks later by a 7.1-magnitude earthquake that struck Mexico City and nearby states (epicenter in Puebla). In total, the earthquakes destroyed some 60,000 buildings, damaged more than 100,000 others, and left nearly 500 dead. These were the most devastating to hit the country since 1985 when an 8.0-magnitude earthquake rocked the capital region, leaving some 10,000 people dead and billions of dollars in damages.
Tsunamis are possible along the Pacific coast in the event of an offshore earthquake.
Mexico is also home to 16 active volcanoes, notably Colima/Volcán de Fuego (485 km [300 mi] west of Mexico City) and Popocatépetl (60 km [40 mi] southeast of Mexico City). Volcanic activity at Popocatépetl sometimes disrupts flights at nearby Puebla International Airport (PBC) and ash can reach as far as Mexico City.
Travelers should be aware that Mexico suffers from a high rate of traffic accidents; the country experiences over 16,000 traffic fatalities per year.
For security reasons, individuals should not hail taxis on the street but should instead order them in advance from a reputable (licensed) company or use a taxi stand. Public transit should be avoided in some areas due to high rates of crime (e.g. pickpocketing and armed robberies) reported on municipal and intercity buses; in Mexico City, the metro and metrobus services are generally considered safe, especially during the day.
Security conditions on highways can vary considerably from place to place. Highway banditry is not uncommon in areas lacking adequate national police or army presence. In general, national highways - particularly highways with tolls (cuotas) - are the safest choice for travelers. If attacked, obey all orders and never attempt to drive around a roadblock, which are frequently manned by highway bandits.
The following recommendations are applicable to all automobile journies in the country:
Before getting in or out of a vehicle, take note of your surroundings.Always drive with doors locked, windows rolled up, and a sufficiently full gas tank.Leave room to maneuver between your car and the car ahead (particularly in traffic) to avoid becoming inadvertently or intentionally trapped (and thus vulnerable to criminals).Park in well-lit, secured areas whenever possible.Avoid making your car particularly recognizable (e.g. bumper stickers, etc.).Vary your hours, commute, etc., to avoid becoming a predictable target.If you believe you are being followed or threatened in some way, drive to a busy and/or secured area (not home).
Government and police checkpoints are common. As such, you should always carry your passport, visa/residency card (if applicable), the original copy of your Forma Migratoria Múltiple (FMM) - issued to foreign visitors upon entry into Mexico - and car registration/insurance documentation. If you approach a checkpoint, remain calm and follow all instructions. If you are detained, immediately ask to contact your embassy.
Keep in mind that police corruption is a major issue in Mexico. Never attempt to bribe an officer but be prepared to be propositioned. It is therefore advisable to travel with 1000 pesos (50 euros) in cash separated from the rest of your money for this reason. Similarly, traffic cops (tránsitos) are notorious in some areas for demanding excessive "fines" (mordidas), a type of extortion, from foreign drivers. Generally speaking, corruption is a more significant issue within municipal and state police forces, and less so within the army or the federal police.
Protests are common in Mexico and demonstrators commonly erect makeshift roadblocks to disrupt. As violence is relatively common, never attempt to cross a roadblock or drive around one without permission. A "toll" may be demanded. (see SOCIAL UNREST section)
Due to high rates of air pollution, permanent driving restrictions are in place in the capital region. Cars that are nine to 15 years old are banned from the streets between 05:00 and 22:00 (local time) one day per week as well as two Saturdays per month. Cars older than 15 years are banned one day per week and all Saturdays. All cars with foreign license plates, no matter what their model year, are also banned from the roads between 05:00 and 11:00 one day per week and all Saturdays. There are no driving restrictions on Sundays and there are no restrictions for driving hybrid and electric vehicles, as well as domestically registered cars that are eight years old or newer. The "Hoy No Circula" schedule regarding driving restrictions for older and foreign cars, based on license plate numbers, is available online. Additional driving restrictions are regularly implemented during periods of high air pollution.
It should also be noted that Mexico City is notorious for road congestion. Traffic conditions have gotten progressively worse over the past decade and traffic can prove dangerous for pedestrians and cyclists; take care when crossing streets.
Practical Information
Climate
The coastal and low-lying regions of Chiapas and Yucatan states have a hot and humid climate with a rainy season from June until September. The climate is more temperate along the Central Mexican Plateau. The north is dry, even arid (very hot summers, cold winters, little rain). It is cool all year long at high elevations (2,000 meters).
Useful Numbers
| | |
| --- | --- |
| Country Code : | +52 |
| Police: | 911 |
| Fire Dept.: | 911 |
| Ambulance: | 911 |
Electricity
Voltage: 127 V ~ 60 Hz
Outlets: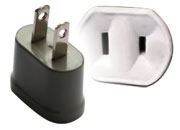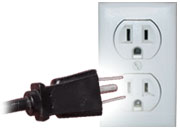 Risk Level
Critical
High
Medium
Low
Minimal