Somalia Country Report
---
Overview
Executive Summary
The Federal Government of Somalia (FGS) exerts limited authority outside of the capital, Mogadishu, and President Mohamed Abdullahi Mohamed's leadership is undermined by personal rivalries, opposition from clans, the semi-autonomous federal member states (FMS), and foreign governments. Disputes between the FGS and FMS stem from candidate selection for the regional elections, the framework for conducting national legislative and presidential elections in 2020–21. Jihadist militant group Harakat al-Shabaab al-Mujahideen (Al-Shabaab) will continue to hold significant territory in southern Somalia and have the ability to conduct mortar attacks and vehicle-borne improvised explosive device attacks and follow-up small-arms assaults in Mogadishu. Targets are international and government assets and personnel, except in Somaliland, which is more secure.The Somali National Army (SNA) is deployed in Jubaland's Gedo region and it fought against Jubaland security forces around Baladhawo next to the Kenyan border in February and March 2020. Recent political changes have led to a general consensus between the FGS and FMS to move forward with a clan based model for forthcoming national elections which should now become the main focus.Piracy syndicates based in Mudug region in April 2019 briefly resumed targeting commercial vessels to kidnap crew members and demand ransom payments. IHS Markit sources report they have since reverted to more profitable criminal activities. The hijack of the Sri Lankan-flagged tanker Aris 13 in March 2017 is still the most recent successful hijack of a commercially significant vessel since May 2012. Somalia's economy is heavily dependent on foreign aid and remittances, as well as excise and duty charges at seaports and airports. However, a global slowdown in economic growth is likely to reduce remittance contributions from the Somali diaspora in 2020, and COVID-19 virus-related cargo disruption will reduce expected tax collection from imports and exports.
Operational Outlook
The level of terrorist activity this week changed little overall with the focus being on SAF and RPG attacks as the militants continued their campaign of harassing attacks against static locations including checkpoints and FOBs. There was a marked decrease in the number of successful IED incidents. It is currently unclear whether the fall can be attributed to the continued counter-IED operations and training aimed at reducing IED incidents on the MSRs. Of note were a number of demonstrations across the country in protest against comments made by President Macron of France that have been widely viewed by the Muslim world as anti-Islamic. Whilst the protests were themselves peaceful, there have been reactionary attacks by individuals in response elsewhere in the world. As a result there may be a heightened threat against French nationals and other Europeans in the near term.
Threat reporting suggests that the AS main effort will be to disrupt the upcoming national electoral process with the continued infiltration of Amniyat operatives into Mogadishu, particularly to carry out CQA, IED and suicide attacks. Threat warnings for further possible PBIED attacks remain extant.
The most significant incident this week was a complex attack that began when AS gunmen shot dead two officials conducting a polio vaccination campaign in Kahda District. The gunmen abandoned the car they were driving, which was subsequently detonated remotely when other officials, led by the Kahda District Commissioner, arrived to investigate resulting in further casualties. The attack was condemned by UNICEF, which was supporting the vaccination campaign, calling the attack against the health workers a violation of international law. The use of a VBIED as a form of secondary attack is uncommon in complex attacks. More usually the VBIED would be used to create the opportunity for gunmen to mount an assault on a target, such as the access point to a hotel or other facility.
In addition to this incident there were also three CQA attacks and a shooting incident. On Oct 23, a soldier was shot dead in Daynile District. The next day  an officer was shot dead in the same district. On Oct 28, an officer was shot dead in Hodan District. There was also a shooting incident at a checkpoint in Dharkenley District on Oct 25 in which several police officers were injured as well as one gunman. There were also three criminal related shooting incidents; an armed robbery on Oct 25, a shooting after a family argument on Oct 26 and a shooting of a tuk-tuk driver by soldiers following an argument on the same day. Of note was a claim by ISS that they were behind the incident on Oct 25; however, local sources indicate it was AS. On Oct 29, NISA officials reported that they had carried out an operation targeting CQA cells in the Odweyne neighborhood of Daynile District. Several AS suspects were arrested, and a number of weapons were reportedly recovered.
Southern Somalia continues to be the focus for militant kinetic activity. The Lower Shabelle region recorded a rise in the number of terrorism-related incidents, primarily comprising attacks against security force bases and FOBs as well as checkpoints. On Oct 23, militants attacked the AMISOM FOB at Arbacow. On Oct 25, SNA in Qoryoley were attacked. Then on Oct 28, militants launched three separate attacks targeting Awdheegle, Alamada and Janaale. All attacks were repulsed. On Oct 25, an SNA foot patrol was targeted in a grenade attack in Afgoye District.
Activity in Bay region saw a marked increase in AS activity. Over the period Oct 24-25 and 29, militants carried out attacks against two police stations and two SNA positions utilizing mortars and RPGs followed by heavy gunfire. The most serious incident occurred on Oct 25 when a SWSPF base in Qansaxdheere was attacked with RPG and heavy gunfire, killing at least one police officer with several others injured. The same day a SWSPF patrol was also targeted in an IED attack near the base. A security operation on Oct 26 led to the arrest of two militants emplacing a roadside IED in Baidoa. A third militant was also later arrested. In Bakool region, a SWSPF base in Wajid was attacked on Oct 28 with RPG and small arms fire. The same day two pastoralists were injured in the area by an IED explosion.
Jubaland State saw a moderate increase in AS attacks focused on Lower Juba. Militants attacked AMISOM forces in Afmadow and Jubaland security forces in Yontoy on Oct 24, and a Jubaland forces position in Kuda on Oct 29 resulting in two soldiers being killed. In addition, the director of the Amal Bank in Kismayo was killed in a CQA attack on Oct 26. He is the third prominent business figure in Kismayo to be killed over a 12 month period. It is possible the killings are linked to AS business extortion activities. Security forces in Jubaland continue to target AS's means of revenue. On Oct 29, Somali Danab Special Forces killed a junior AS finance officer in a targeted operation near Jilib in Middle Juba.
The central Somalia region saw a significant decrease in overall activity with no IED incidents reported this week. In Galgadudd region, on Oct 23, militants launched several mortars against AMISOM positions at Dhusamareb airfield without casualties. The same day, four children were killed in Bangeele District whilst throwing stones at an item of UXO or an IED. A possible clan related shooting was also reported on Oct 27 in Abudwak that resulted in two people being killed. The Hiraan region also saw clan related violence when a clan member was shot and injured on Oct 23 in Beletweyne. In Middle Shabelle, on Oct 26, militants punished a man by destroying his home for his lack of support. The next day, two militants were killed at a checkpoint in the Yaaqle village area in what may be a sign of local resistance to continued AS demands for material support and forced recruiting.
In northern Somalia, the Somaliland region saw mostly criminal related activity. Of note were three apparently linked incidents in Sool region that began with a clash between police and alcohol smugglers on Oct 24 in the Kalbaydh area that left two officers dead. There was also a clan attack on a police station in Lasanod, Sool region on Oct 26, where three murder suspects were abducted. The next day two police officers were abducted. Both incident were linked to the killing of two smugglers. It is possible that clan militias may be behind these incidents with the intention of seeking revenge against the parties involved in the actions at Kalbaydh. In the Puntland region there was one terrorist incident of note when ISS gunmen attempted an attack on the Bossaso Mayor at his home on Oct 27. One of the gunmen was captured after a brief firefight between the ISS terrorists and security personnel. Also of interest was a report that Puntland Maritime Police seized several Yemeni vessels suspected of transporting weapons into the country. The operations were carried out in the coastal areas of Elayo, Ad'ade and Lasqoray. No further information regarding the operation has been released.
On the political front progress has been made in the electoral process after HirShabelle State nominated their appointees to the joint electoral commissions entrusted with preparing and organizing the upcoming national electoral process. Their nominations came several days past the deadline which will have delayed the second phase of the creation of these committees. It remains to be seen if this time can be made up. The National Independent Electoral Commission (NIEC) Chairperson, Halima Yarey, spoke out about the lack of female representation in the joint electoral commissions saying all bar Puntland had nominated all male representatives. She said it was a violation of the agreement made between the FGS and FMS and called on Prime Minister Roble to address this issue.
The new Cabinet announced last week was unanimously approved by the Somali parliament on Oct 24. Prime Minister Roble thanked the parliament saying their priority now was ensuring national electoral process. As this is essentially now a caretaker cabinet, it is unlikely that much will be achieved in the remaining months of the government despite the ambitious aims announced by some new ministers.
Former Prime Minister Hassan Ali Khaire met with former President Sheikh Sharif Ahmed in Kenya for discussions. They were joined by several members of the Somali parliament for discussions on the elections. Both are standing for the presidency and their discussions may be an indication they are considering cooperation in the forthcoming election to further their political agendas.
The Somali National Army (SNA) and regional African Union Mission in Somalia are conducting a joint offensive to secure supply routes in southern Somalia. The SNA is unlikely to retake significant territorial control or obtain full responsibility for security operations during 2020. Al-Shabaab fighters are likely to target pro-Islamic State forces in the northeastern Puntland state. However, the Islamic State's presence is unlikely to be completely eradicated, with its operations being geographically limited and focused on assassination of commercial and government personnel. Bosaso port is likely an aspirational target for both groups. IED attacks in Mogadishu occur at least monthly, targeting the airport, hotels, police stations, and government buildings.
Foreigners, including aid workers, and journalists are very likely to be targeted by jihadist militants and violent criminals throughout southern Somalia, even when they are escorted by armed guards in the capital, Mogadishu. Jihadists also engage in the extortion of businesses and development projects in the capital and typically assassinate business persons and damage property as a means of enforcement. Aviation operating from Aden Adde International Airport in Mogadishu has previously been targeted by person-borne IEDs. Somalia has no effective national laws or policing measures to counter organised criminal activity.
War Risks
The Federal Government of Somalia (FGS) is undertaking arbitration at the International Court of Justice (ICJ) over a maritime boundary dispute with Kenya. If the ICJ rules in Somalia's favour, Kenya is very unlikely to escalate militarily by seizing oil blocks located within the disputed 150,000-square-kilometre area. The next ICJ hearing is on 4–8 June 2020. Following the escape of the Jubaland regional state security minister from federal custody, he and around two hundred of his fighters fought against Somali National Army troops in Gedo region. If the security minister travels to Jubaland's regional capital, Kismayo, there will be an increased risk of small-arms fire to aircraft at Kismayo airport.
Vaccinations required to enter the country
Proof of vaccination against yellow fever is required for all individuals traveling from a country with risk of yellow fever transmission.
Routine Vaccinations
Hepatitis A: A vaccine is available for anyone over one year of age. The vaccine may not be effective for certain people, e.g. those born before 1945 and who lived as a child in a developing country and/or have a past history of jaundice (icterus). These people can instead get a shot of immune globulin (IG) to boost their immunity against the disease.
Hepatitis B: A vaccine is available for children at least two months old.
Diphtheria-Tetanus-Polio: A booster shot should be administered if necessary (once every ten years).
Yellow Fever: A vaccine is available for children over the age of one year.
Other Vaccinations
Typhoid Fever: If your travels take you to regions with poor sanitary conditions (for children two years old and up).
Rabies: For prolonged stays in an isolated region (for children from when they can walk).
Meningococcal Meningitis: For prolonged stays, or in case your travels will put you in close contact with a local population affected by an epidemic of the disease (for children over the age of two years).
Malaria: Recommended preventive medication - mefloquine (sometimes marketed as Lariam) or doxycycline (sometimes marketed as Vibramycin).
For Children: All standard childhood immunizations should be up-to-date. In the case of a long stay, the BCG vaccine is recommended for children over one month and the MMR (measles-mumps-rubella) vaccine for children over nine months.
Roads throughout the country are in poor condition as they are generally neither maintained nor lit at night and traffic lights are rare. As such, driving can be a dangerous activity; it is advisable to avoid all road travel after nightfall. Additionally, landmines and IEDs are an ever present danger.
Illegal roadblocks, highway banditry, and other violent crime can occur at any time in any locality. When traveling by car, doors should be locked and windows rolled-up. 
All road travel should be undertaken with an armed escort, in a convoy, and in an all-terrain vehicle. Always travel with sufficient stocks of water, food, and fuel, as well as the necessary equipment to deal with breakdowns (spare tire, jumper cables, etc.). Always carry an effective means of communication and back-up.
Operations at Mogadishu's Aden Adde International Airport (MGQ) are regularly suspended with little to no warning. Additionally, the airport and aircraft operating out of it are susceptible to attack, as was the case in February 2016, when a bomb was smuggled onto a flight. Security procedures and checks have been enhanced at MGQ; however, the fact that a bomb was able to be carried onto the plane in the first place indicates Al-Shabaab may have agents employed within the facility.
Practical Information
Climate
Somalia has an arid climate which is slightly more temperate along the coast.
There are two rainy seasons, from March to May and again from September to December. The air is very hot and dry between December and February. In the north, temperatures are generally higher than in the rest of the country and the region also receives less rain. The coastal regions are very dry. During the summer months, monsoon winds bring slightly lower temperatures.
Useful Numbers
There are no emergency services in Somalia.
Electricity
Voltage: 220 V ~ 50 Hz
Outlets: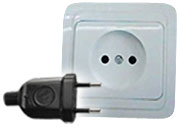 Risk Level
Critical
High
Medium
Low
Minimal